Wallabies For Sale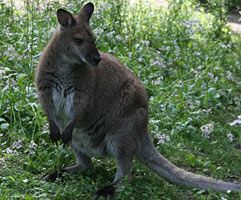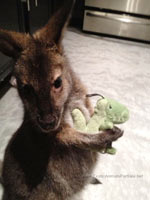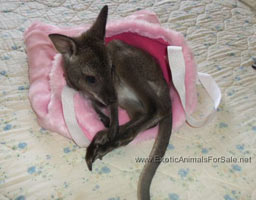 There are about 30 different species of wallabies, a pouched member of the kangaroo family that is native to Australia and surrounding islands. Size varies greatly, depending on the species, but the animals can grow as large as six feet. They have very powerful hind legs and tails. The hind legs are used for hopping and jumping at high rates of speed and covering great distances, and the tails are used for balance and support. But when provoked, wallabies can deliver a fierce kick with their hind legs and a strong swipe with their tail.
Pet Wallaby
Wallabies are native to Australia, but they have been introduced in New Zealand where they are now widespread. There is also a few small populations of wallabies in the United Kingdom, including about 100 animals on the Isle of Mann, thanks to a zoo escape. Wallabies like to stay in remote areas, hiding in wooded and rugged places and avoiding the open, arid regions that kangaroos prefer. Many of the wallaby species have been named for their preferred habitat: the brush wallaby, the rock wallaby, the shrub wallaby, and so on. In captivity, wallabies can be kept in fenced-in enclosures with grass or clover ground cover. Irrigation systems will help keep the grass green and fresh for foraging.
Wallaby Diet
As herbivores, wallabies mainly eat plant material such as leaves and grasses. An enclosure that has a large, pasture-like grassy area will provide that animals with the majority of their dietary needs, with some supplements of fresh, leafy vegetables and plants.
Wallaby Enrichment
Wallabies are most active during the day and are largely solitary animals. A few species, however, live in groups of up to 50 animals called mobs. In captivity, food is often an ideal enrichment tool. Apples hung on ropes, a hollowed out pumpkin, or frozen fruit popsicles will all give captive wallabies hours of problem-solving activity, along with addition nutrients.
Wallaby Breeding
Wallaby breeding season is in January and February, and after a 28-day gestational period, a single baby, or joey, is born. Like kangaroos and other marsupials, wallaby joeys are born under-developed and stay in their mother's pouch for at least two months while they continue developing. They are not fully developed until they are seven months old. Wallabies have a life span of about nine years.