Squirrels For Sale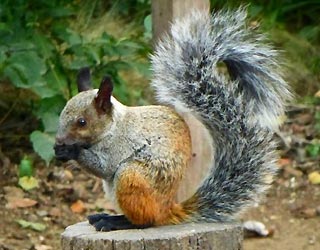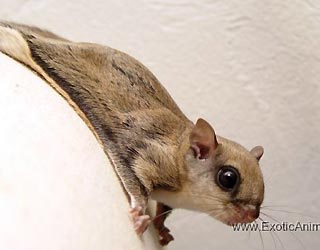 Pet Squirrels
Native to the Americas, Africa and Eurasia, squirrels belong in the Sciuridae family. This family consists of tiny to medium sized rodents including flying squirrels, tree squirrels, chipmunks, ground squirrels, prairie dogs, marmots and woodchucks. According to zoologists, dated back in Eocene, the earliest known squirrels are very close relative to mountain beaver and dormouse.
Though squirrels can live in every climate, global warming and continuously changing habitat conditions may cause some trouble for them. Squirrels are very adaptive in nature, because of this quality they can live in some of the harshest parts of the world. While Ground squirrels can be found living in two of the hottest deserts in the world, Mohave Desert and Kalahari Desert, Arctic ground squirrels have evolved to thriving in extreme environments.
A suitable and specious cage is very essential for squirrels. While adult squirrel needs a bigger cage to climb around, babies require a small cage so they don't hurt themselves. At least 3' tall cage without much shelves and ladder will be ok for your pet. A cage having enough climbing room and some stick of wood to chew on will be a nice housing for squirrel.
Keeping some hardwood stick in cage is a good idea as it plays an important role for squirrel's dental health and teething babies. You can drape fabric over the back and top of the cage, as it makes squirrel feel more secure.
You can also keep newspaper on the bottom of the cage. Squirrels need a lot of space to roam around freely and as keeping them inside the house is not a good idea, you must think of an outdoor cage.
These tiny pets have strong teeth which help them to chew almost everything, so make the doors of the cage a little tough to open. If you have an outdoor cage, make sure that they are well-protected from the sun, wind, rain and other animals. If you don't want to keep your cute pets in cage, nest box and hammocks are also considered as a good housing for your squirrels.
In order to make a comfortable place to sleep, you can keep shoe box with a folded blanket or other soft material in the cage. You can put your old T-shirt in the nest box to make a good bed for your pet. Don't use towels as squirrels can get claws caught in the loop of thread. Change or wash the T-shirt once a week.
When it comes to baby squirrel you have to be more careful. Babies cant thermo regulate themselves that means they can't keep themselves warm without assistance or help. Putting a heating pad inside the cage is a good idea but make sure that the temperature doesn't go up 100 degree Celsius. Never feed a cold squirrel as they can't digest food.
Enrichment
Being active is very important for their overall health and well being. Just like human being, your little pets may also need some playtime and exercises.
Exercise and playing: To keep your little pets healthy and active, you can put some stuffed toys of their size in the cage and nest box, squirrels love to wrestle with the small toys. You can attach some tree branches or natural wood bird perches to the side of their cage. It will give them a natural home like feeling.
While squirrels are active for a couple of hours after sunrise and a few before dusk, the rest of the time they can be found resting. When they are awake, they are super active, running and climbing everywhere.
For at least an hour a day you can allow them to run around your living room. Before letting them do so, ensure that all the all electrical wires are secured otherwise squirrels may chew them. Make sure the other pets like dogs and cats are not around them. Place a tall cat tree as squirrels love to climb.
Just for precautions you should keep squirrels from someone who has a virus or cold. Wash your hands with soap before touching and feeding them to stave them away from infections. Keep the surrounding area of the cage clean.
Avoid too much physical contact with squirrels as they are very prone to infections.
Keep names and numbers of veterinarian handy. Make sure to take them for regular check-ups.
Give squirrels things to chew: Squirrels need things to chew on as their teeth grow 6 inches a year. Give them flavored wood chews, sterilized bone chew for rabbits, pieces of hard wood, sterilized cow hoofs etc. They also love to chew on tree branches.
Squirrels Diet
Squirrels mostly depend on foods that are enriched with protein, fat and carbohydrate as they can't digest cellulose. Their diet consists primarily of various plants, nuts, seeds, fruits, fungi, and green vegetables. Don't rely solely on packaged squirrel food available at stores. If you only feed them "squirrel food", they will gradually become malnourished.
Food for adult squirrels: Give Rodent blocks such as Mazuri or Henry's Healthy Blocks, Harlan Teklad along with vegetables and fruits to them. You can treat them with nuts occasionally.
For babies: Fox Valley milk replacement is must for babies. Using a syringe feed this milk to baby squirrels. Esbilac puppy milk is mentioned as a good choice of food on some websites though, vets don't recommend it.
Water: Healthy squirrels can generally drink from a water bottle. Use a glass bottle, not plastic as they can chew through the plastic.
Keeping a squirrel as a Pet?
These little furry balls can make a great pet. However, squirreal are not legal to keep in captivity in all counties. Check with your local and state ordinances before deciding to keep a squirrel.
Squirrels are very trustworthy animals. They can be tamed but it takes a very long time.