Bats For Sale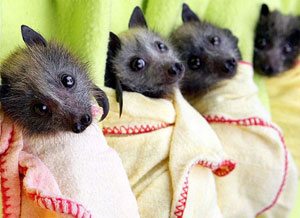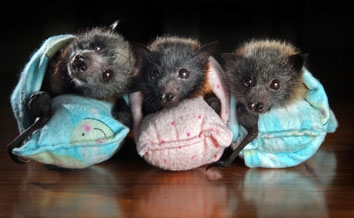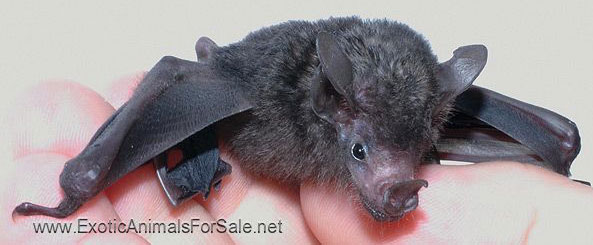 Pet Bats
The bat is a prime example of an exotic animal that could be considered a pet. There are a lot of things to take into consideration when deciding to keep a bat as a pet. For example, the climate they are used to is very important to keeping a healthy and happy animal. Depending on the type and origin of the bat, there are many different possibilities for the climates they are used to. However, in general bats tend to live in a mild climate. Survival rate is low for bats in the winter as there are no bugs for them to eat, however the harsh heat of summer can often be too much for them as well. This is why they are mainly found in milder states, where they can live happily for six months of the year and then hibernate in winter. It is important to understand the importance of climate in your home and in their cage as it can have detrimental effects on the health of the animal.
The conditions in which bats are kept includes more than the heat of the room. Bats are not used to being kept in captivity. Therefore when bringing them into captivity, you must understand that putting them in a cage is a condition that they are not accustomed to. Consider the size of the cage that you use and remember that they need space to fly. It would not be fair to put a bat in an enclosed space with no room to move. However, there are cases in which keeping a bat in a small enclosure is actually good for the animal. Once a bat is injured, you may to keep them confined from further hurting themselves and give them a chance at survival. The cage must be built to suit the needs of the bat.
What do Pet Bats Eat?
The diet of any animal is extremely important to their well being and this is no different for bats. As previously mentioned, there are many different species of bats and therefore they eat a lot of different things. However, the small species tend to feed on small bugs such as mosquitos and moths. Although some species of bats feed on fruit, which is easy to purchase and store in the average household.
Other responsibilities that come with owning a bat, or in fact any exotic animal is that they can be known to carry disease. Bats are known for carrying both rabies and SARS. It is important that you do not risk bringing these diseases into your home. Having them checked before bringing them into your home is necessary.
Pet Bats sleep day or night
Another issue that must be considered in terms of bats is their sleeping habits. Most species of bats tend to sleep all day and wake at night. Owning a nocturnal pet can be fine in some cases, such as hamsters where they can be kept in their cage out of earshot, but this not the case with bats. Bats need to be given the chance to fly. It would be unfair to enclose bats yet refuse them the right to fly. Considering this responsibility is important as, previously mentioned bats tend to only be awake at night.
It is important to remember that although the adorable features of a bat may make them seem like the perfect pet, this is not always the case. Although they are small and furry, the personality of a bat, like many exotic animals is often more hostile than sweet. Owning a bat is not like owning a puppy. They do not wish to be cuddled or passed around and it could be extremely difficult to train them. Like many exotic animals, they are not used to being handled by humans and could possibly act out in a hostile and harsh way. Their teeth are sharp and in an act of defense a bat would have no issue in biting. This is another feature that makes them a unique pet to own.
Laws about Pet Bats
In some countries, including the states, it is illegal to take a bat from the wild and treat them as a pet. This is because many species of bata are now endangered. You may have to work with organizations such as Wildlife Rehab or have a Zoo license. This will inevitable mean that legally owning is more difficult that owning a "normal pet", so it is vital to consider this when deciding on a bat.