Fennec Foxes Available here at TreeTop Exotics
Fennec Foxes Available here at TreeTop Exotics
REFERENCE ONLY: Animals listed have been sold or removed.

Name:

Christa Barker

Posted:

06/20/2022

Location:

Florida
ID #71041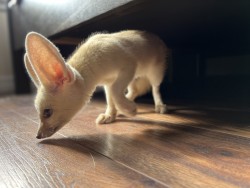 Welcome to TreeTop Exotics! we have been in the exotic animal world for almost 20 years!


Please visit our Facebook page @treetoppets to see what our customers say about us! or go to our google page just search for Tree Top Exotics





We have both Fennec fox genders available looking for their forever home. These extremely wonderful captive born and bred specimens are hand raised and extremely well adapted perfect for animal ambassadors or a personal pets, especially due to their small stature and fantastic disposition due to the time spent hand rearing these wonderful little foxes. If you like to see a small clip of the fox in the picture here is the link to our Youtube channel https://www.youtube.com/shorts/8DB1ud0rP1I


this is the little guy in the pictures but all our foxes have the same great disposition





We offer personal assistance including advice, answers, and care recommendations for the life of your baby.    





We are both USDA and FWC licensed.